Have some great new flooring… keep it looking good!
Obviously choosing your new flooring is important, what colour? What material? What design? But choosing the right vacuum cleaner to keep it looking good for years to come is just as important!
That's why Buckley for Flooring have partnered with SEBO, the world renowned vacuum cleaner manufacturer established in 1977 in Germany. SEBO produced the first commercial upright vacuum cleaner and which rapidly became the worlds best selling machine and today SEBO is still the world's largest manufacturer of commercial upright vacuum cleaners that are sold in a staggering 20 countries worldwide.
SEBO have been instrumental in the development of the modern vacuum cleaner, many features that are now common were first introduced by them and they have continued to introduce new technology to make their machines more user friendly, reliable and better performing.
Peter at Buckley for Flooring was determined to introduce this prestigious brand to his customers "All of the machines are still made in Germany and are constructed from the highest quality materials, each one is fully tested before it leaves the factory and with award winning reliability when you buy a SEBO you know you are buying the best!" comments Peter.

The reliability shouldn't be taken for granted either and SEBO are proud to be consistently top of consumer surveys for reliability due to the quality design and construction, According to Which? Magazine SEBO is the most reliable upright brand on the market today!
Similar to Buckley for Flooring, SEBO is a family business that takes a real care for the design and manufacture of its products, this has helped them win so many accolades including those from; Which?, Good Housekeeping and Ideal Homes for their quality performance.
One of the top sellers is the multi award winning SEBO Airbelt E… in a nutshell it's the ultimate cleaning machine! It's compact, lightweight, has low noise level and looks great with an iconic modern design, "The Airbelt E3 Premium ePower is an outstanding vacuum cleaner and one we will be recommending to many of our customers to help their flooring continue to look great" comments Peter.
The suction power of the energy-saving 800W motor is boosted by a high-tech tapered hose and the lightweight telescopic tube can easily be adjusted to a comfortable length to make vacuuming easier. The electric power head lifts carpet pile and removes even difficult pet hair giving exceptional cleaning, effortlessly. The innovative airbelt soft bumper system protects your walls and furniture from marking, whilst the easy-glide castors let the machine move with the lightest pull and ride over thresholds with ease plus the full size upholstery and crevice nozzles are conveniently located in the machine and are always at hand. What makes it even more beneficial is that it is suitable for both carpet and hard floor and comes with two cleaning heads. "It's powerful, effective and compact, it's ideal for every home" adds Peter.
You don't have to take Peter's word for it either as SEBO is the recommended vacuum cleaner by Adam Carpets, Axminster Carpets, Ulster Carpets, Brockway, Cavalier, Cormar and The Carpet Foundation!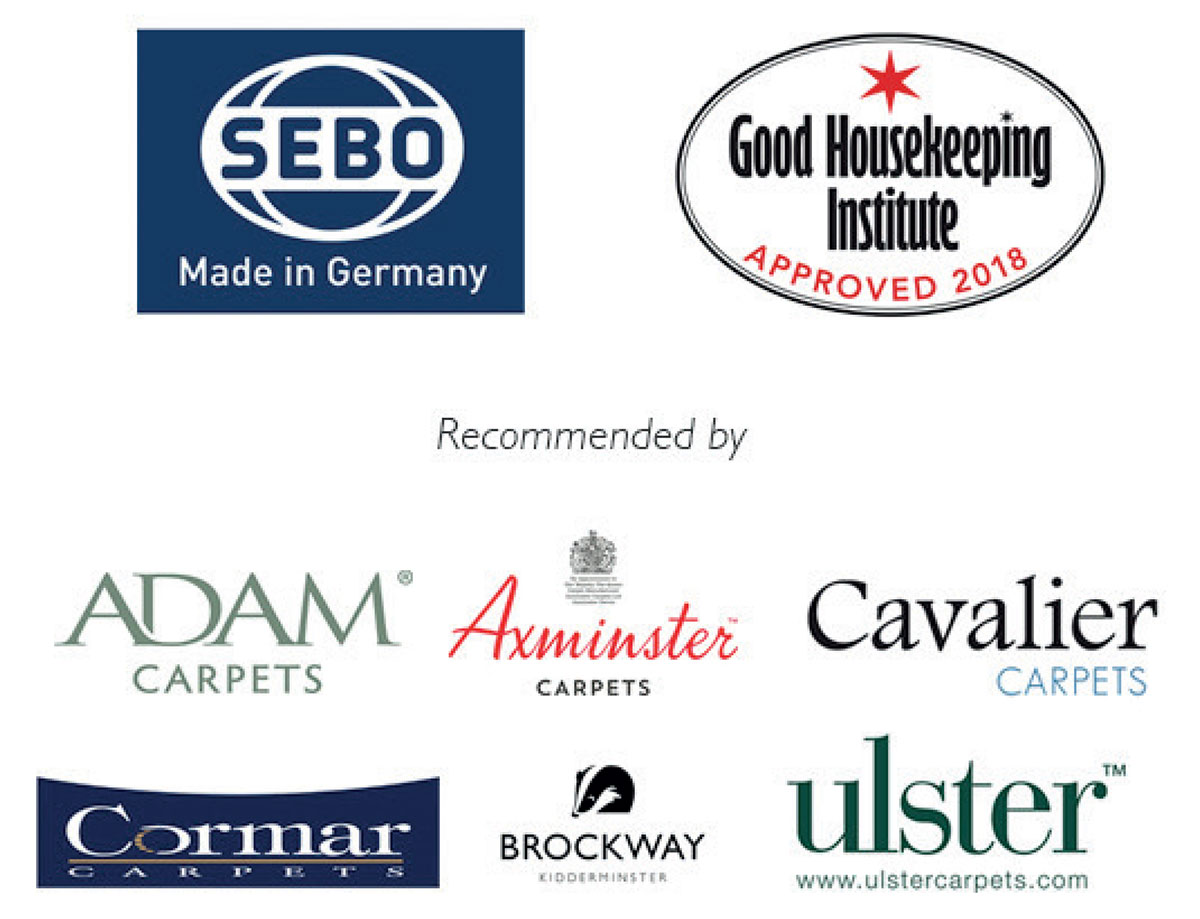 Visit the store to learn more about the machines that will keep your floors looking great for years to come, or visit www.sebo.co.uk for more details.