Effortless Elegance… New Amtico Spacia Parquet!
Last year Amtico launched an exciting element to their collection… new Spacia Parquet, with a beautiful selection of woods across a variety of tones in two classic Parquet sizes. As with all Amtico Spacia LVT, Spacia Parquet brings effortless elegance to a room and this new collection provides another way to achieve the popular Parquet look that has been used extensively throughout history to add decoration and design interest to a home.
It's been an instant hit here at Buckley for Flooring and Peter and the team have completed several installations over the last six months so we thought we'd highlight a recent install and explain what makes Amtico Parquet such a great choice for all rooms of your home.
With classic appeal, Parquet complements many interior schemes – both traditional and modern – it's an elegant choice throughout the home. With this new collection, you can add sophistication to a spacious living area, introduce a touch of classic charm to a cosy bedroom scheme, or bring an element of pattern into a sleek and contemporary kitchen. Parquet is also perfect for hallways: its angled repeating pattern flows away from the entrance and draws you in.
Amtico's in-house designers have carefully selected 12 Spacia Woods that ensure choice across palette and finish, including surface finish options in both Tick and Barnwood. Where a Tick finish subtly mimics the softly treated finish of natural wood, with all-over texture adding realism and smooth direction across each plank, a Barnwood finish – as used here in this superb lounge – is more rustic, enhancing each design's colour and pattern with a distressed and aged effect.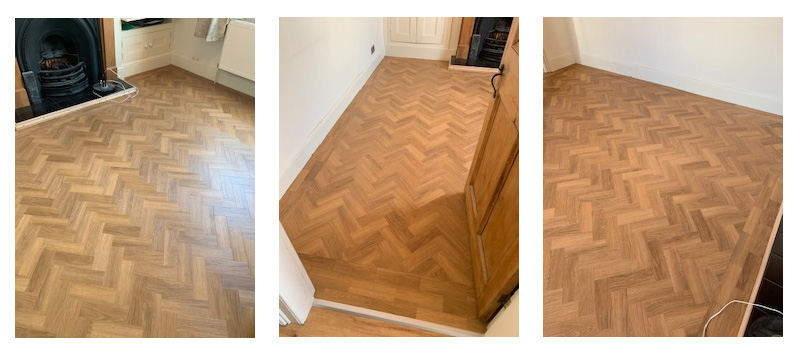 One of Peter's favourites is Noble Oak, which has a Tick finish and brings traditional style to a space through its rich golden colour. The collection has great variation though, Coastal Pine has sun-marked greys and soft browns and Blackened Spa Wood, in a deep cocoa black colour for a modern touch.
Why choose Amtico?
Amtico Spacia LVT is known for simplicity, practicality and durability – backed up by a 25-year peace-of-mind warranty. The new Parquet collection extends Spacia's versatility, meaning you can enjoy all the benefits of effortless style and ease of maintenance in a popular Parquet effect that will have enduring appeal.
With over 25 years of installing Amtico, Peter and the team will be able to guide you through the many choices and laying patterns that will work well for your home.
Laying patterns… what are they?
Laying patterns are templates and designs for the arrangement of Amtico planks and tiles on your floor, Peter comments "It's essential to get the right pattern to create an inspiring and stylish floor that enhance and define your individual space and with our experience of creative laying patterns, every room can be an expression of your personal style."
How important is a good installation?
Behind every beautiful floor is the right preparation. Amtico products have been designed for straightforward installation and good preparation is key to making this a smooth process.
The base should be hard, smooth, clean and dry and for the best quality fit and the surface must be even – any irregularities in the sub-floor will disturb the beauty of your finished floor. During the recent installation, Peter prepared the sub-floor with a 9mm plywood base which will ensure the floor looks great for years to come!
Still not sure if Amtico is right for your home? Check out Amtico's official top 8 reasons to choose their product.
You can learn more about all the new Amtico Parquet products in our showroom and browse the new brochure, plus we can order some new samples so you can see exactly how they will work in your home.